Luxury Car Rental in Ibiza | Ferrari & Lamborghini Rental Ibiza
---
In Luxury Car Ibiza we know you are looking to make a difference. With us you can rent and choose from the range of most exclusive luxury cars you've always wanted to drive.
 Luxury Car Ibiza is committed to providing the highest level of customer service and work quality to all of our customers. We pride ourselves on our ability to generate fast, friendly and personalized services. In Ibiza Ferrari Rental your satisfaction is our success.
We have the most exclusive brands of luxury cars. Do you want to drive a Ferrari, or a incredible Lamborghini or a maybe you prefer a Maserati ?. Go ahead and contact the team of professionals in Luxury Car Ibiza. Luxury car rental Ibiza. Ferrari, Lamborghini, Porsche, Maserati, .
---
EXCLUSIVE IN IBIZA. FERRARI 488 SPIDER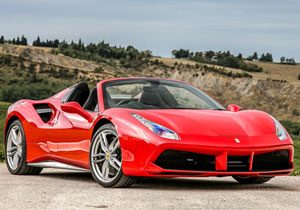 The Ferrari 488 Spider is the convertible version of the Ferrari 488 GTB, Maranello's central motor sport. 670 CV. The fastest Ferrari ever